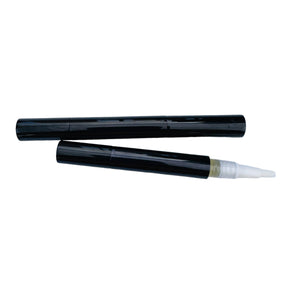 Cuticle Oil Pen
Healthy, Moisturized Nails - Our uniquely blended cuticle oil formula nourishes, moisturizes and protects cuticles and nails that lead to undeniably gorgeous nails! Applying cuticle oil can increase circulation around your nails, stimulating healthy nail growth.

Nail & Cuticle Protectant - Using cuticle oil on your nails can also protect them against trauma and lead to fewer breaks and tears in your nails. In cases of extreme dryness and damage, cuticle oil can help moisturize and restore your nails and cuticles to health.

Thickens & Strengthens Nails - Our complex blend of oils and vitamins penetrate deeply and quickly, softening cuticles and promoting strong nails. This will lead to fewer breaks and tears in your nails. Our unique formula contains Vitamin E - which will nourish your cuticles and strengthen your nails.

Super Easy Application - Our convenient cuticle oil brush pen can make application of cuticle oil onto your nails super easy without any mess. Unlike messy droppers, our cuticle oil pen allows accurate and efficient application of the oil to the base of your nails without any waste.
---
We Also Recommend